Macclesfield Community History Website
Where are we?
Macclesfield is a small town situated in the Adelaide Hills about 50km southeast of Adelaide, the capital city of South Australia.
Macclesfield is part of Aboriginal ancestral lands and we acknowledge and respect the region's traditional custodians, now generally accepted as being called the Peramangk. We also acknowledge the deep feelings of attachment and relationship of Aboriginal peoples to the land.
---
Welcome to our website, managed by the Macclesfield History Group. We are part of the Macclesfield Community Association. The history of the town dates back to 1840.
Betty White, with her friends, has collected historical information about Macclesfield for sixty years. In addition to being closely involved with the publishing of two Macclesfield books, with others she has researched and presented historical articles for many of the 900+ issues of the Macclesfield Newsletter.
We hope to make these, and much of the rest of the collection, available to those interested in the town and region's history.
---
What's New on the Website
Major Book Launch: The Macclesfield Recreation Grounds 1947-2020, by Brenton Handke. The Macclesfield History Group invites you to our book launch inside The Rec Grounds Complex on Sunday 26th Nov at 10.30am, during the 2023 Strawberry Fete. Morning tea available, everyone welcome. Booklets will on sale for $25 per copy.
Update to our Lemar history, from Scott Davis.
Nutt's Blackwood Estate Sawmill - Rowland NUTT 1832 – 1914. We don't normally quote past records verbatim, but this is well worth reading for an understanding of infrastructure progress in the early days in our region. Thank you Nat Lemar for your research efforts.
Description of the Changes to Council Boundaries.
Early history of the Post Office, Venables Street, Macclesfield.
The Voice follow-up session August 21 2023

The Proposed Voice to Parliament - the facts and reasons why we are going to the polls. This 2nd session will move on from where we left off the first session, with a new presenter, Parry Agius. We expect to cover some new ground.

The Macclesfield History Group believes this is an historic moment, regardless of the outcome. We are encouraging everybody to actively inform themselves of the reasons for this referendum and to this end we are conducting a follow-up presentation on Monday 21st August, again at the RSL Hall in Macclesfield, at 7pm.

More information here or click on the image.
Book with Eventbrite here.
National Reconciliation Week in 2023 runs from 27th May to 3rd June. With support from the District Council of Mt Barker, the Macclesfield History Group has engaged Courtney Hunter-Hebberman to present a facts session on the proposed Voice to Parliament, in Macclesfield during that week. Follow-up is here.

A question and answer session after the presentation gave rise to the some ideas that could be considered when deciding how to vote in the coming Voice Referendum. To see them click here.

The Macclesfield History Group dedicates this event to Susan WOENNE-GREEN, 1942-2022. Susan was an early motivator for this event and as a long-time member of the History Group was a much valued consultant on matters Aboriginal. This event is the fulfilment of her last collaboration with us.

Paddy's Irish Bush Dance 2023 happens soon, Saturday 13th May, 7:30 - 10:30pm, The Institute, 33 Venables Street, Macclesfield. Featuring the Wild Matildas Bush Band. Visit their website here.
Tickets: Adults $15, 12-18 years $10, children under 12 free. Organised by the Macclesfield History Group as part of History Month, May 2023. Click here for more information, and for PHOTOS taken at the dance.

For more Irish History, including why Macclesfield was often called "Paddy's Town" in its early days, click here.
Bridging the History: A brief history of Aboriginal settlement in the Adelaide Hills, by Deanne HANCHANT-NICHOLS, Tanganekald/Ramindjeri (Ngarrindjeri Nation); Barkindji Nation, Ass.Dip., BA, MA (Aboriginal Studies/Archaeology/SA History) and Adelaide Hills Reconciliation Working Group 2020–23.
Sue Boyland of Western Australia has been researching her family history, some of which relates to Macclesfield. She has created a website, most impressive and well worth looking at, a section being entitled "The O'Grady Family from Macclesfield". She has been searching our Council Minutes Book, writing down the names as she goes, then passing them on to us. These have been added to our minutes page here. Thank you Sue.
You are able to contact Sue by email jboyland@wn.com.au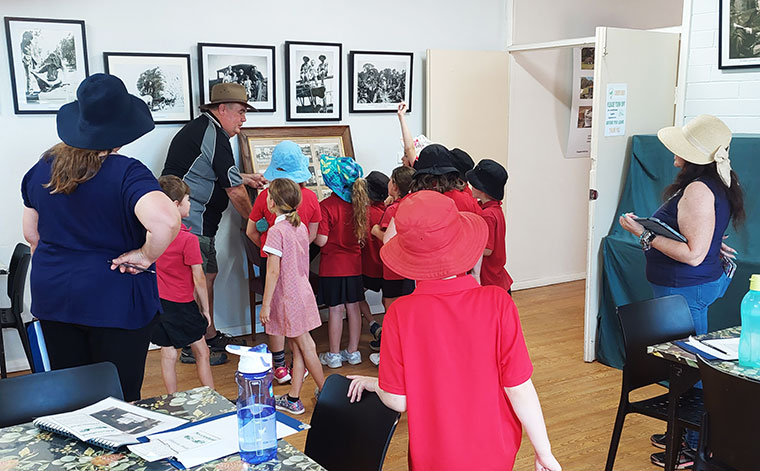 Today we had a visit by some of the local Macclesfield Primary School Children, led by Dennis Oldenhove from the Macclesfield RSL.
Macclesfield Strawberry Fete - macclesfieldstrawberryfete@gmail.com
SUNDAY 27th November AT 9:30 AM at Macclesfield Oval
IMPORTANT NOTICE! Due to heavy rains over the past three weeks, Davenport Square is too wet and soggy to use safely as the site for this year's Strawberry Fete. Accordingly, and with thanks to the Macclesfield Recreation Grounds Committee, the Strawberry Fete will now be held at the Macclesfield Oval, Davies Street. We look forward to seeing you there. Same date, same time, just follow the signs.
The Macclesfield Strawberry Fete is back!
Bring the whole family along, 'cos there's something for everyone. Feast on a variety of food offerings while you listen to live music, or watch the dog agility and sheep shearing demonstrations. Check out the Chevy cars, restored vintage engines and chat with fellow enthusiasts while sipping a barista made beverage, or celebrate all things 'strawberry'. Participate in the strawberry eating competition. Take the kids for a free face-paint, or let them try their hand at table tennis. Test their environmental knowledge in a game of Snakes & Ladders on a grand scale. Shop at a wide variety of stalls with offerings from condiments to wine tasting; bees wax wraps to handmade jewellery; live plants to 3D printed lizards and SO MUCH MORE! Come and see for yourself. Entry is FREE.
Updated: Reports of the Macclesfield History Group to the Macclesfield Community Association AGM, over the years. This is effectively a history of our achievements over the last few years.
Woven Together, connecting through story and song. A Cultural History Talk and Music Performance, exhibiting art from the Erritja Aboriginal Art Gallery. On Sunday May 22nd 2022 at the Flaxley Uniting Church, corner of Flaxley Road and Strathalbyn Road from 1:00pm till 4:00pm.
"Bridging The History": - We would like to acknowledge and involve First Nations people in our project called Bridging The History. We aim to have a presence on our website that includes awareness rising from the pre-colonial human occupation of our region and the early contact period. The main focus is to identify and collaborate with ongoing Aboriginal associations within our region and to embrace them in a way that creates respect and a documented history for future generations.
Howard Ross and the Trigg brothers: - In 2021 the History Group received a small box of Ross family photos and greeting cards from Brenton Jury, who now lives in Brisbane. (In progress)
The Billion Bees Foundation: An article about Australian native stingless bees.
The Pfeiffer Files. In 2020 Chris Pfeiffer sent us almost 200 images mainly from Maccy in the 1900's, with descriptions as remembered by his 90 years old father. Updated 24 Aug 2021.
Peggy's Album. Recently the History Group received a wonderful donation of an old family album, complete with photographs of members of the Ellis and Pilben families who lived in Macclesfield around 1840, when the town was first settled. (more to be added)
Peter Baraglia has updated some Table Tennis names June 2021.
The Crystal Lake page has been updated with information about the Crystal Park Campsite, and the Olympic Size Pool.
The Institute will be OPEN on the 2nd Wednesday of each month from Wed 10th February, 2021, 2 – 4 pm. Everyone Welcome!
The Early Days - Dulcie Scrutton letter. A thought-provoking account of life in Macclesfield during the years 1911-1917 as seen through the eyes of a young girl.
The Lemar's: - One of the "old" Macclesfield names. A "work in progress", updated 4th Nov.
The Davenport Family established Macclesfield in 1840 - NEW.
UPDATED INFORMATION: - Nat Lemar, while self-isolating over Easter due to the Covid-19 pandemic, researched the Paris Creek School. She discovered new information that places some doubt on other items on this website, listing facts backed up by images found on Trove. Very much appreciated Nat.
---
Report: 1880 Time Capsule opened May 2000.
Macclesfield CFS: 80 Years Celebration, December 8, 2019. The Macclesfield Country Fire Service is celebrating 80 years of service to the local community with a day of celebration and remembrance. The day will run from 11am until 2pm, with official presentations at 12.30. Location – Davenport Square: 4 Vernon Street, Macclesfield SA 5153.
REPORTS: Our Epic Flight Centenary Exhibition + Strawberry Fete.
2019 Inductees into the Macclesfied Football Club Hall of Fame: Cecil Bernard Alvin YATES, Trevor CALABY, Brenton HANDKE, Wayne EDWARDS, Barry HANDKE.
Our Epic Flight Centenary Exhibition November 23-24 + Strawberry Fete: Save the Date.
Macclesfield Council Minutes Book 1884-1888. A major exercise, all the official local council minutes from 1884 to 1888, conserved, photographed, then added to this website for anyone to peruse, copyright free. All images/slides are now available for viewing HERE.
The DANCKER family feature in Macclesfield's early history, see here for our writeup. Now Kenan Henderson, an architecture and musician/teacher, has created a website devoted to Frederick William Dancker 1852-1936 and his son Eric Phillipps Dancker 1889-1953, see here.
Mystic Order of the Itching Stitch: Another History Mystery.
Three Brothers Arms: a fuller list of publicans has been added, and some new images.
Biochar Open Day, Saturday 27 July 2019, was a success. Report.
The Great Heritage Family BAKE-OFF: A successful day, enjoyed by all. See the report on the MAIN BAKE-OFF PAGE.
We have produced another walk, the Venables Street Historical Walk 2, an easy 1.4km circular route starting at Davenport Square. The walk brochure can be collected from the local Post Office or Supermarket, or downloaded at home and printed - follow the link above.
Added the three 2018 History Group reports to the MCA (Macclesfield Community Assoc).
From our Museum of Hats Exhibition in November 2018, see the Old Hats page for many preserved photos that were used in advertising the event, and photos that were taken on the day. My apologies for taking so long to get these processed and uploaded.
Free Little Book Exchange in front of the Institute.
Macclesfield School Concert 1954. This may be of interest to the many locals who were in Primary School at this time.
1943 Flaxley Miss Red Cross competition.
Churches: more information added to Congregational and Methodist church histories.
KEPERT Family History - from Louis Kepert, a descendent of Wenzel Kepert and Catharina Anna Elizabeth Kepert (nee Behn), who lived in Macclesfield from 1850 with their children. A major genealogic research project over many years. Thank you Louis for allowing us to add it to our website. More to be added.
Thank you to Sheila Jones for (probably) solving one of our History Mysteries, the loss of the northern chimney of the Macclesfield Hotel. Click HERE for the answer. If you have further information then contact us by email at macclesfieldhistory@gmail.com, or on our online form.
Macclesfield Table Tennis Club history HERE.
Museum of Hats: Report HERE.
The 91st Macclesfield Strawberry Fete will be held on Sunday November 25th on Davenport Square, Macclesfield, from 9:30am.
Started an Obituaries page, the first being Joyce Valerie DAVIS (nee PASSFIELD), 1931-2005.
The Passfield Family, and the story of Bert Passfield's Ute. Updated with other snippets from our archives on 12 Sep 2018.
Our walking map around Macclesfield, starting at St James the Less Church can be downloaded and viewed here.
Further details have been added to the FREEMAN FAMILY HISTORY, thanks to Kerry Anne CORY, and Kevin and Heather WOOD.
"The Trials of Billy Freeman", by former ABC journalist Alan ATKINSON
Report completed for 'Bustles & Bows' from Saturday 26th May 2018.
Further details added to the FREEMAN FAMILY HISTORY, thanks to Cheryl AMBROSE from NSW and Barry FREEMAN from Canberra; both descendants of William & Sarah FREEMAN.
Reports added for: 'Venables Street Historical Walk' led by Jan Lewis, the 'Banjo Paterson's Birthday' event, and 'Pink Stumps Day', all on Saturday 17th Feb 2018. See our Events page.
Dancker family history and residence (immediately south of the Institute Hall)
Added: 2017 Report to the Macclesfield Community Association AGM, held 13 Aug 2017.
Hall of Fame - Macclesfield Football Club, held 13 Aug 2017. Twelve past players and administrators were added to the inaugural Maccy Football Club Hall of Fame.
BOOKLET: St James the Less Roman Catholic Church 150th Anniversary
2017 Strawberry Fete 26 November on Davenport Square + REPORT
+ our exhibition GOOD & USEFUL WORK: A Century of Red Cross in SA.
Anglican Church Hall in Venables Street Fri 24, Sat 25, Mon 27 from 1 - 4 pm
Sunday (Strawberry Fete day) from 10 - 4pm
Genealogy from the early Macclesfield area UPDATED June 28th 2017. We are a long way from getting our database online and searchable, but in the meantime the raw data has been placed on this page. A process for finding your surnames or other keywords has been given at the top of the page. You can also use the "Search Website" button at the top right of each page. We hope it is useful.
LAUNCH of our own Lesley Schack's "At Work - Macclesfield Cheese Factory, 1937-1975" . Based on the 2013 oral history project of the factory, the book will be launched at the Macclesfield Institute Hall on Saturday 27th May, 2017, from 2-5 pm. For more information go to our Events page.
History Mysteries: Perhaps you can solve a History Mystery involving our Macclesfield past? The next concerns the Macclesfield Hotel. When and why was the chimney removed?
National Library Pandora Archive: Our website has been selected for preservation on the Australian National Library Web Archive, Pandora. This means a copy of the entire website will be archived approximately yearly on a national database, for posterity. See here.
Site Map page: Easy navigation and page selection, especially for tablet devices.
Select by clicking on a coloured link.

---