Macclesfield Council Minutes Book 1884-88
All the official minutes from 1884 to 1888. Links:
• VIEW all the pages
• Provenance/Background of the Minutes Book.
• Example Page
• Surnames & Topics: please record these for each image, then forward them to us via email using our online form.
A plea: if anyone has old minutes books, or similar documents, then DO NOT throw them away. Pass them on to some historical agency, ours or others.
---
The BOOK - all the pages
These have been uploaded and can be accessed by clicking on the links below. The first few have been affected over time but thereafter their condition is good.
We have stayed with the original image/slide names, so that the first double-page set is _M123714, or, just looking at the last three digits, 714. The last is 848, giving 135 images/slides.
_M123714 _M123715 _M123716 _M123717 _M123718 _M123719 _M123720 _M123721 _M123722 _M123723 _M123724 _M123725 _M123726 _M123727 _M123728 _M123729 _M123730 _M123731 _M123732 _M123733 _M123734 _M123735 _M123736 _M123737 _M123738 _M123739 _M123740 _M123741 _M123742 _M123743 _M123744 _M123745 _M123746 _M123747 _M123748 _M123749 _M123750 _M123751 _M123752 _M123753 _M123754 _M123755 _M123756 _M123757 _M123758 _M123759 _M123760 _M123761 _M123762 _M123763 _M123764 _M123765 _M123766 _M123767 _M123768 _M123769 _M123770 _M123771 _M123772 _M123773 _M123774 _M123775 _M123776 _M123777 _M123778 _M123779 _M123780 _M123781 _M123782 _M123783 _M123784 _M123785 _M123786 _M123787 _M123788 _M123789 _M123790 _M123791 _M123792 _M123793 _M123794 _M123795 _M123796 _M123797 _M123798 _M123799 _M123800 _M123801 _M123802 _M123803 _M123804 _M123805 _M123806 _M123807 _M123808 _M123809 _M123810 _M123811 _M123812 _M123813 _M123814 _M123815 _M123816 _M123817 _M123818 _M123819 _M123820 _M123821 _M123822 _M123823 _M123824 _M123825 _M123826 _M123827 _M123828 _M123829 _M123830 _M123831 _M123832 _M123833 _M123834 _M123835 _M123836 _M123837 _M123838 _M123839 _M123840 _M123841 _M123842 _M123843 _M123844 _M123845 _M123846 _M123847 _M123848
---
Provenance/Background
Local people, including Betty White, said that a man named Roger Anderson was thought to have found this Minutes Book on a rubbish dump. Subsequently he gave it to Arthur Edmonds, a neighbour, who was a Meadows Councillor representing the Macclesfield Ward.
Arthur Edmonds was Jan van Kaathoven's father and he died in 1994. Following his death, Jan found the book among his papers, considered it worth keeping and stored it in a drawer at her home for the next 24 years. Six generations of the Edmonds family have lived in Macclesfield. Several of Jan's ancestors, including grandfather Charles William Edmonds served on the Macclesfield Council. His name is noted in this Minutes Book.
Jan donated this book to the Macclesfield History Group in August 2018.
In quite poor condition after 133 years, we felt it should be conserved first before turning the pages. Via a very generous donation this was achieved by ArtLab in 2019, but it was not rugged enough to be physically handled by all and sundry for years. But at least we could now photograph it.
Professional photographer Rob Fairweather from nearby Strathalbyn photographed all the pages, and then converted the images to high quality but a reduced size, acceptable for Internet use. Visit his website at

All images were then added to this website for anyone to peruse, free of copyright.
An example page from the Minutes Book (click to enlarge):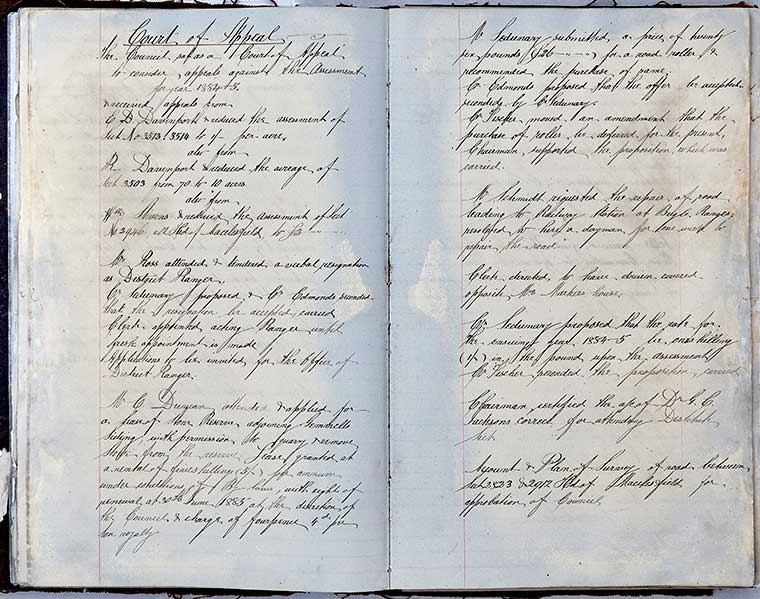 ---

Surnames & Topics
Please add surnames and topics to this table as you read the minutes. Since all writing is cursive, which cannot be converted to text, and then searched, in this way others will be able to find those who are mentioned in the minutes, particularly for genealogy information.
Record then forward them to us via email using our online form. Or perhaps photograph your paper record then 'share' that to us via email using macclesfieldhistory@gmail.com. Some have been added to get you started.
Sue Boyland of Western Australia has been researching her family history, some of which relates to Macclesfield. She has created a website, most impressive and well worth looking at, a section being entitled "The O'Grady Family from Macclesfield". She has been searching this Council Minutes Book, writing down the names as she goes, then passing them on to us. These have been added to our minutes page here. Thank you Sue.
Slide

Surnames

Topics

Edmonds, Marker

Elected Positions

Maley (Naley?), Stubbs

District Ranger

King, Dumas, Dancker, Considine, Davenport, Graham, Stubbs, Fischer, Edmonds, O'Grady, Gooch, Anderson, B?i?s, + others to exlore.

Cemetery, Doctors Creek Road

Margaret Nestor, Destitute Asylum; L O'Grady, Tory Banks Reserve; O'Grady warning to complete contract 83; P O'Maley, M O'Grady, Denis McNamara tenders for Contract 84; others mentioned were Mr Davenport, Anderson Bros, Mrs Jordan, Mr Gray, Cr Fischer.

P Doherty, August Drechsler, M O'Grady, W Freeman, J Anderson, H Conigrave, W Robinson, M Considine, Jonas Fry, P Doherty, J O'Malley, J Sedunery, C W Edmonds, Theodore Fischer, D J Gray

Contracts,
Destitute Board,
Annual meeting

Elas Graham

M O'Grady, Patrick Kain, John O'Maley, James Malone, J Horbin?, J Brennan?, D McNamara, Edward Fry, Timothy O'Connor, James Anderson, O O'Maley, M Considine, William Freeman, J Hoobin??, John Kain, P O'Maley, P Doherty, M Malone, James McNamara, Thos McMahon, W H Dancker, Sarah Edwards, William Robinson

Contracts, rations