Dancker Family
To the immediate south of the Macclesfield Institute Hall in Venables Street Macclesfield is the DANCKER family home.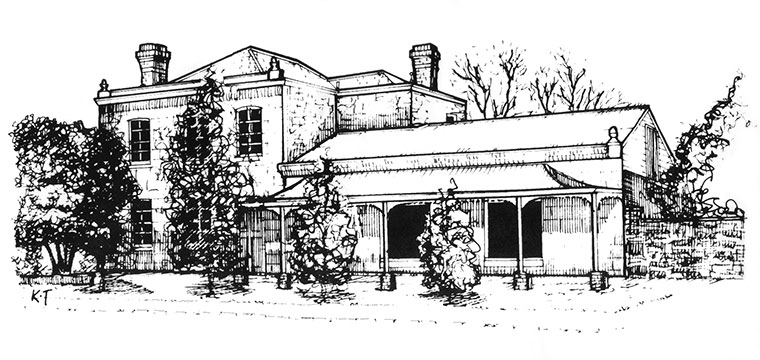 Much of this detail is taken from FAULL, Jim (ed.) 'Macclesfield: Reflections along the Angus, 1980'.
When Henry DANCKER purchased his half of lot 109 which fronts on to the main street, Venables Street, Macclesfield, he was described as a labourer. For the rest of his life he was described as a storekeeper.
He began with a modest store which flourished in the years 1851 to 1854 when Macclesfield was a major throughway for thousands of diggers en route to the Victorian gold fields. Venables Street catered for this steady flow of men, boys, horses, drays and bullock carts with two 'pubs', two blacksmiths, and several stores, the largest of which was "Dancker's General Store and Drapery". After the 1850's storekeeping in Macclesfield was never again outstandingly profitable but Dancker's Store continued for 100 years before finally passing out of the family in 1950.
Henry DANCKER married in 1849. His wife Jane (nee PRATT?) was born in Spalding, Lincolnshire. She arrived in South Australia in 1849, aged 27 and married Henry soon after. The couple had six children, Emma, Frances Jane, Frederick Wilhelm, William Henry, Gustav Adolph and Alfred Charles. They were a hardworking family but were not active in community affairs. Henry was one of the founders of the Macclesfield Public School in 1855 but thereafter there is no mention of his name in the public activities of the community. After he died in 1899 the Southern Argus, the Strathalbyn newspaper, recorded that "his quiet nature kept him aloof from public matters". (Southern Argus, 12 January, 1899.)
As the family grew up in Macclesfield, Henry improved his modest store, turning it into a fine two-storey home with an adjoining large shop. It became one of the substantial dwellings of Macclesfield and from it the Dancker children mostly looked to wider horizons.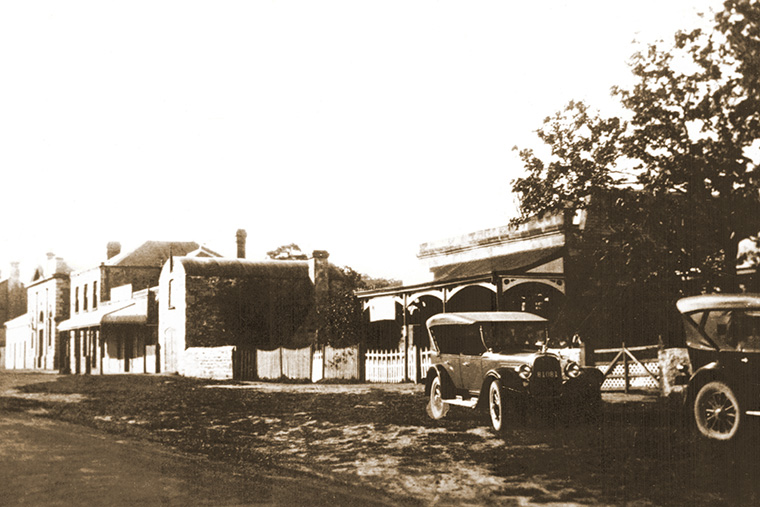 Venables Street Macclesfield c. 1930's
From left: The Institute Building with annexe, W H DANCKER's two story house, shop and grain store (with rounded roof line) and the Chemist shop and store. In 1866 this store was owned by Hartley DIXON; he also managed the Telegraph Station and Post Office from these premises. H DIXON and his family moved to Mt Barker in 1875. Various other businesses occupied this building over the years.
The two DANCKER daughters married well, Emma to Frank OLIFENT, a civil servant in Adelaide and Frances to Elas GRAHAM, eldest son of one of the largest landholders in the district, Thomas GRAHAM of Blackwood Park. Elas moved to Adelaide where he was at various times an auctioneer, manager of South Australia's "Farmers' Union" and a Justice of the Peace. (Information from the 'South Australian Directories'.)
Frederick DANCKER was the most talented of the children. Henry and Jane arranged for him to be educated at an Aldinga private school and when he showed an interest in becoming a naval architect he was given a position as a cadet on the ship Goolwa, which sailed for England. Here Frederick tried to get himself trained for naval architecture and when he was unsuccessful he returned to Australia and trained to be an architect in Melbourne. Afterwards he was articled to Daniel GARLICK, an architect of Adelaide. (Register, August 29, 1936. p. 22.)
In 1880 when Frederick was 28 he designed the Institute building in Macclesfield and charged no fee for his services. At the same time he was undoubtedly influencing his father and mother in the modifications of the family home which was next door to the Institute. The building, now more than 100 years old, bears unmistakable signs of careful architectural supervision.
Frederick married Clara Anne PHILLIPPS, a sister of W. Herbert (later Sir Herbert) PHILLIPPS, a prominent businessman and philanthropist in Adelaide. When he completed his articles with D. GARLICK, Frederick pursued a career in architecture in Adelaide which lasted until 1931. In that year he was knocked down and injured by a cyclist, so at the age of 79 he decided to retire. He died in 1936 and was survived by two unmarried children, Eric Phillipps DANCKER and Gladys Clara DANCKER.
Frederick designed many fine homes in Adelaide but his best remembered accomplishments were 'Adare' at Victor Harbour where he introduced, for the first time in South Australia, turret roofs; 'Attunga' the two storey, Queen Anne style residence now in the grounds of Burnside Memorial Hospital; the Queen Victoria Hospital; St. Paul's Lutheran Church at Hahndorf and the Malvern Methodist Church. He was a Fellow of the Royal Australian Institute of Architects and was the first in South Australia to call for the use of reinforced concrete in walls. He published 'Modern Dwellings: 100 Selected Designs' in 1904.
Eric Phillipps DANCKER joined his father in the architectural firm of F. W. Dancker and Son. Eric also had a distinguished career and was South Australia's vice-consul for Spain. He died in 1953.
William DANCKER was the only family member to stay in Macclesfield after Henry and Jane died, the latter in 1910. He maintained an interest in the family store all his life although, during his father's lifetime, he extended his involvement in the town's business activities to owning the post office and to sharing ownership of the town's brewery, with his brother Gustav, for a brief period. William did not marry so when he died ownership of the store and two-storey home passed out of the family and the DANCKER name disappeared from Macclesfield.
For about twenty years the old DANCKER building was used as a garage in Macclesfield and in 1973 it was purchased by Leslie and Fay HAYWARD. They painstakingly restored it and gave special emphasis to upgrading its sandstone facings made of attractive local stone. The building is the most striking in Macclesfield's main street and stands today as a monument to an enterprising emigrant, his wife, and a son who was a successful and creative architect.
In 1985 the HAYWARDS sold the building to the federal member of, parliament, Alexander DOWNER, who now (in 1980) uses it as his family home.
---
Various excerpts from our records
from The Long and Interesting History of the Macclesfield Institute click here
In January 1880 a correspondent reported that "the Macclesfield Institute is now in a flourishing condition, a large room has been purchased in the Main Street as a Reading Room, and a Hall will be put up before long."
A Committee was elected, architect F W DANCKER, a relation of H DANCKER of Macclesfield, designed the building at no cost to the town, and tenders were called for the construction.
Committee: Messrs. J WEBB, J H AGAR Sen, H CONIGRAVE, W H DANCKER
---
DISTRICT COUNCIL OF MACCLESFIELD
Monday March 10 1856, Annual Meeting
Present - Messrs. W. GOULD, H. LINN, S. ROBINSON, and J. WILLIAMS.
Mr. Henry LINN was elected Chairman of the Council for the present year.
The following publicans' general licences were granted, viz. :-
Henry LEWIS, Davenport Arms, Macclesfield.
M LINN, Macclesfield Hotel, Macclesfield.
Robert SLEEP, Bugle Inn, Bugle Ranges.
Storekeepers' licences were granted to—
William LISTER, Macclesfield.
Henry DANCKER, Macclesfield.
Slaughtering licences were granted to Joseph MOTT, William WOODING, James G. JACKSON, George FLEET, Thomas LEMAR.
A yearly timber licence was issued to Charles SMITH. The sum of £20 was paid to Mr. S. Sanders, on account, for surveying.
The days for Council meetings were fixed to be every alternate Saturday at 3 o'clock pm, to commence from Saturday, the 29th day of the present month.
---
from The Adelaide Observer (SA: 1843-1904) Saturday 12 Feb 1859 page 4 reports:
"(From our Macclesfield Correspondent)
A public meeting was held at Macclesfield on the 8th instant, for the purpose of taking immediate steps to relieve the distress occasioned by the late fire.
....
Mr Henry WATTS proposed and Mr HOUNSLOW seconded.
'That this meeting cordially sympathises with the sufferers from the awful and calamitous fire that raged through this district on Sunday last'. It was carried. The full wing resolutions were also duly proposed seconded and carried unanimously:-
'That it is eminently desirable that means be immediately advanced to relieve the sufferers.'
'That to effect this object subscription is to be opened; that an appeal to be made to the colony through the public papers and that the Banks in Adelaide be requested to allow subscription – lists to lie open for the collection of subscriptions'.

'That the following gentlemen be appointed a Committee to give effect to the above resolutions, namely; Messrs. AUSTIN, BILLING, COLEMAN, DANCKER, GOULD, HOUNSLOW, LINN, MARKER, ROBINSON and WRIGHT'.
That the following ladies be requested to act as a Committee to distribute immediate relief to families:- Mrs DANCKER, Mr GOULD, Mrs MARKER, Mrs MILLAR, Mrs NEUMANN, Mrs SUTTER and Miss COLEMAN'."
---
An obituary of Mrs D. MOTT is in the Register, 15 June 1906, page 5b,
of E. COBB on 9 January 1909, page 4h,
of Mrs Jane P. DANCKER on 1 July 1910, page 6h,
An obituary of John JORDAN is in the Observer, 15 November 1902, page 34d,
of Mrs Jane P. DANKER (sp) on 9 July 1910, page 40a,
---
Some excerpts from The Southern Argus, 23 July 1931, page 5 as reported in the Macclesfield Newsletter under "GLIMPSES FROM THE PAST 1931 - Arbor Day at Macclesfield."
http://nla.gov.au/nla.news-article97241599
In 1931, Arbor Day celebrations were celebrated in connection with the commencement of an ambitious scheme, which, when brought to fruition, will mean a great deal to the pretty township. The District Council of Macclesfield stands firmly behind the Progress Association, which was formed about a year ago and proposed to build a swimming and boating lake in the parklands south of the town.
The ceremony then took place and among those who planted trees were Messrs. SH ROSS, W TONKIN, T LANE, J DALY, R SCOTT, T McNAMRA, H TURNER, C YATES and F BARNETT (committee men). Councillors B STUBBS, and P MAGIN and Messrs L von DOUSSA, J ELLIOTT, C DUMAS, S DAVIS, R TONKIN, WP ANDERSON, A GOOCH, J ROSS, W DANCKER, G WYATT, W WAKEFIELD, P COSGRAVE, Tom ROSS, H SCHMIDT, P NESTOR, J McMAHON, Maurice MURPHY, and other townsfolk present.
At the conclusion, the crowd adjourned to the Macclesfield Institute where afternoon tea was served by a band of ladies interested in the Progress Association and its objectives.
---
Brewery ownership/lease
Cunliffe Street Brewery (Ruins) p/l 84 2824 Echunga 028-154 35º 10' 32''s 138º 50' 03''e 10/8/1850 J M & H D DAVENPORT J M & H D DAVENPORT Questone p/l Henry LEWIS 3/6/1868
William Henry & Gustav Adolph DANCKER 15/3/1887
G A DANCKER 20/9/1888
---
from a Macclesfield Cemetery spreadsheet researched by Paul LEMAR

Last Name First Name Burial Date Death Date Page Reg no Age Abode Lease L Date Grant / Receipt no. Leasee Section L/R Row L/R Plot B/R Row B/R Plot Size T/st T/s Plot Burial Depth Map Location Expiry Notes Unity updated Photo Sues's notes Data checked
DANCKER Heinrich Fredrich 4/01/1899 4/01/1899 4 15 80 Macclesfield D 13/01/1899 Mrs DANCKER Public 3 269+270 3 269 9x9' Y 269 269 13/01/1998
DANCKER Jane Pratt 29/06/1910 29/06/1910 7 34 88 Macclesfield D 13/01/1899 Mrs DANCKER Public 3 269+270 3 269 9x9' Y 270 270 13/01/1998
DANCKER William Henry 1945 20/06/1945 18 149 88 D 13/01/1899 Mrs DANCKER Public 3 269+270 3 269 9x9' N 269 13/01/1998 ch Dauker
---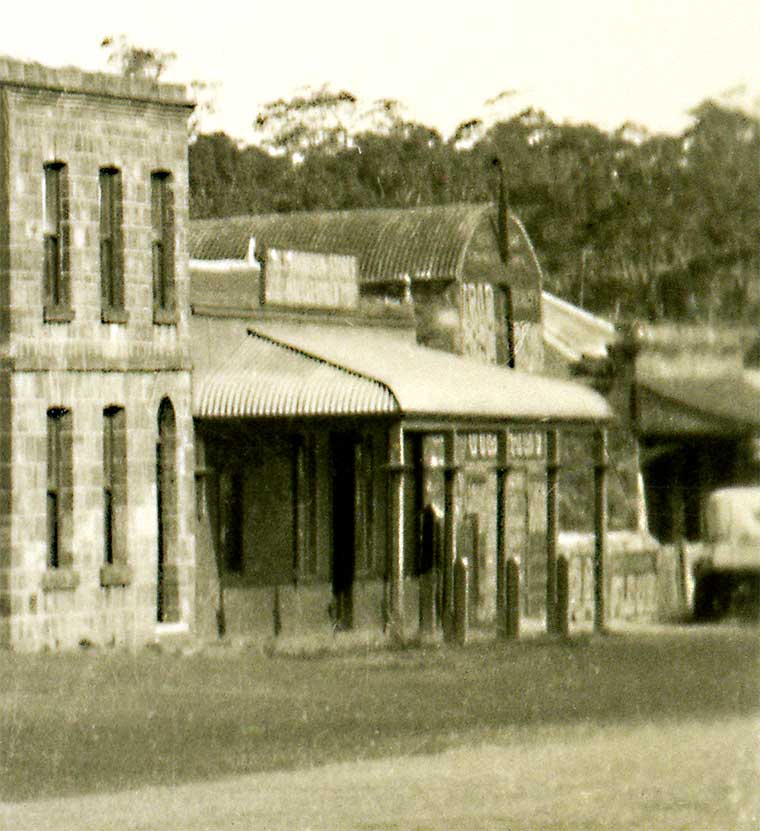 Dancker's shop, date unknown